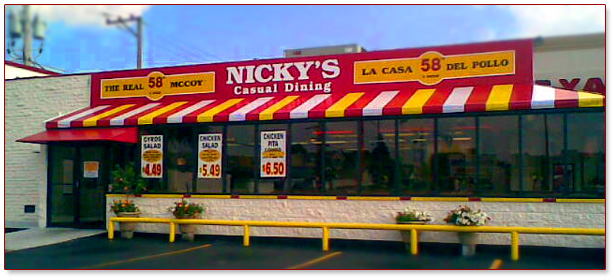 About Nickys The Real McCoy
Where Chicagoland's Finest Quality and Fast Service at the lowest possible prices serving the public since 1969, welcome to Nicky's The Real McCoy carry out Restaurant. Specializing in B.B.Q. Ribs, Rib Tips & Grecian Chicken. Same owner since 1969!
We have heard a lot of complaints about the quality of food and overall service of those "other places", which gave us a reason to explain that we have no affiliation with any other Nickys establishments. We have decided to change our business name to Nickys The Real McCoy to avoid future misunderstandings.
Our great food can be found in 3 Chicago area locations. There is a Nickys The Real McCoy located on the southside of Chicago at 5801 S Kedzie Avenue. The Nickys in Alsip is located on 11524 S Pulaski Rd and we also have a Cicero location on 2400 S. Cicero Avenue. Come into any Nickys The Real McCoy locations to enjoy our selection of great food. Let us spoil you with our friendly service and our warm atmosphere. Menus vary slightly from each location.